"Vocal Masterclassics is inspired and 'a brilliant idea' as Denyce Graves is quoted on your website. It is certain that voice students in the Jacobs School of Music will be well served by VMC for years to come…an invaluable resource."
Jo McClamroch, William & Gayle Cook Music Library
Jacobs School of Music, Indiana University, Bloomington, IN

About Institutional Subscriptions

---
​
Through university or organization IP address authentication and your proxy server (for remote access), we are pleased to provide Vocal Masterclassics as an online database administered through the electronic resources page of your institution's library website. Institutional Subscriptions make the Vocal Masterclassics website available to all students, faculty, members, and/or staff – both on-site and remotely.
Because this database is primarily used by voice students and faculty, fees are based on the number of registered voice students at your institution (both majors and non-majors) during the most recently-completed academic year, rather than the overall full-time equivalency (FTE). For all secondary educational schools, as well as all other libraries and organizations, prices are set as indicated below.

To inquire about a Vocal Masterclassics Institutional Subscription for your school or organization, please begin by completing the form below. We will then get in touch with you within 24 hours to begin discussing and/or making arrangements for your students, faculty and/or members to receive round-the-clock full and immediate access. We look forward to making contact with you!
All fees are for a one-year subscription and for a single institution: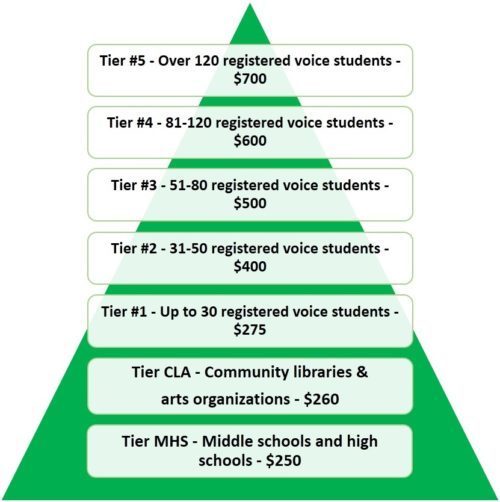 Access: The institutional subscription of Vocal Masterclassics is for unlimited simultaneous users over the entire IP range.
Sample VMC Institutional Agreement
---